A few days ago I decided to start making jewelry again. It takes a certain level of boredom on my part to finally break out my pliers and billions upon billions of beads. That combined with the perfect inspiration, which Anthropologie regularly slaps me in the face with. I have a list of necklaces that I ADORE, but they're all well above my spending limits (which really just means anything over $8 (let's be honest)).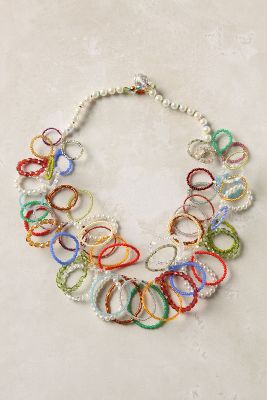 The first necklace on my list is the Spectrum Frenzy Necklace.
It's playful and bright, totally perfect for spring. Originally it was priced as $58 when I first laid eyes on it (it's on sale for $29.95 right now), but that was $50 over budget. Right away I knew I could SO make it using materials I already had! Have I mentioned my ridiculous collection of craft supplies? I can't even tell you why I have so much, I just do and it comes in
real
handy when I get inspired. The only supplies I needed were white pearl-
esque
beads and one giant crystal bead for the closure.
The closure is my favorite part!

If you're interested in a SUPER brief "tutorial" (more like
fauxtorial
), keep reading.
Step One:
Gather your materials! I would love nothing more than to give you an accurate count for how much wire and beading you'll need, but I can't. I used less than half of a 30ft spool of bead stringing wire (the Beadalon stuff). Probably a whole lot less, but it never hurts to have extra just in case.
- Beads! Seed beads, glass beads, pearls, crystals, etc...
- 18-20 medium sized beads for the upper portion of the necklace
- 1 large bead for your closure
- Flexible Beading Wire
- Crimps (2)
- Wire Cutters
- Long Nose Pliers
- Patience
Step Two:
Let's start with the closure! String a crimp bead followed by a seed bead onto your wire. Alternate between seed beads and special beads till you've created a length long enough to loop around your large closure bead. Loop the end of your wire back through the crimp and using your pliers, close the crimp.
Step Three:
Thread a seed bead followed by a pearl (or whatever you've chosen as your medium beads) and continue alternating between the two till you've used half of your medium beads (9-10).
Step Four:
Thread enough beads to create a small hoop approximately 1/2" or 13mm. Loop back and slide the wire through the 1st bead and pull to tighten.
Step Five:
Repeat Step Four, gradually making larger hoops until you reach the 9" mark of the necklace (the midpoint) then begin decreasing hoop size. My largest hoop is 1 1/2" or 38mm and the necklace is 18" long (including my "pearls").
Step Six:
Repeat Step Three until you've used all of your beads. Add an additional crystal bead or two, then thread your last crimp followed by your large closure bead and one seed bead. Loop your wire back through the large closure bead and your crimp. Pull tightly so the beads are snug. Using your pliers, close the crimp and clip your wire. Thread the remaining wire through your beads to hide the end.
Step Seven:
Wear the shit out of your awesome new necklace!!
The necklace is aptly named frenzy because man, those hoops move in all directions with each move I make! But I'm totally in love with the result and really pumped to start on the next necklace on my list.
A few notes:
Be careful not to put kinks in your wire or it will affect how it curves!
Some beads do not have holes large enough for you to thread wire through them twice. Use a clear bead which can handle the wire twice as the first bead in the loop and problem: solved.
At random points you can loop back through the 3rd (or so) bead and give yourself a bit of a spacer between the hoops if you feel it's becoming too cluttered.
Disclaimer:
This is my interpretation of an Anthropologie product and the design is not my own. I had hoped this went without saying, but please, only use this tutorial for personal use. Thank you!